Sviests
Sviests
– Butter – is a pure product, the best one can get from milk. In this time of margarine we invite to realise and return to values that have stood the test of time. Real values that we can enjoy and be proud of. It takes hard and accurate work to churn butter from milk and cream, to reach the stage when the unnecessary is separated and only the most valuable stays. This is what the music groups in SVIESTS do – they explore and research the ancient traditional music and churn, churn until the very  essence appears and the nowadays topical and unheard  appears. In the 1930ies butter was one of the main Latvian export-goods that we sent to other countries and that we were proud of. SVIESTS – "butter" – also has a slightly ironic meaning, because  until recently we could often hear about traditional or ethno-music a certain attitude – "kas tas par sviestu!" meaning  – "what is this rubbish" (literally "this is butter!").
The Ethno-Music compilation SVIESTS
 was launched in 2005. Since then this compilation has been released every second year, providing an overview of what is going on in the Latvian "post-folklore" scene.
2013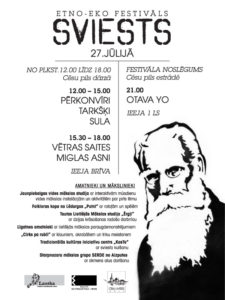 In 2013 SVIESTS turned into a one day festival in co-operation with the Cēsis Culture and Tourism Information Centre – the 
Ethno-Eco Festival Sviests
– that was held during the Cēsis city festival.  The festival programme included music groups that were featured in the Sviests album as well as international guest musicians. The festival also offered an interactive craftsmen programme, where visitors could observe artists and craftsmen showing their work and also create something nice, useful or tasty themselves. These proven values – being in harmony with one's own natural and cultural environment – which ensure a high quality of life, is what we want to  transmit with our activities, of which one of the most visible is the Ethno-Eco Festival SVIESTS.
2014 – 2015
In 2014 and 2015 the Ethno-Eco Festival SVIESTS was part of an EEZ Grant Culture exchange project "Joikas un dainas". SVIESTS co-operated with a Sami festival ISOGAISA in Norway and exchanged both musicians and craftsmen, organised concerts and creative workshops, where Latvians were introduced to Sami crafts and music, but Latvian musicians and craftsmen travelled to and introduced their traditional culture to visitors of the festival ISOGAISA in Norway.
2016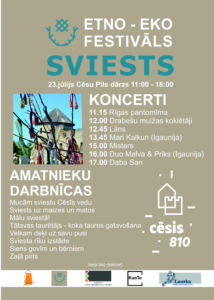 In 2016 the fourth Ethno-Eco Festival SVIESTS took place in Cēsis, where special international guests were ethno-musicians from our nearest neighbouring country – Estonia, but which we still know unjustifiably very little about.
2017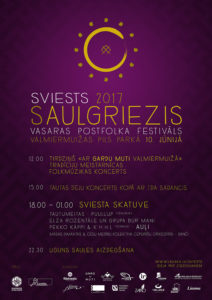 In 2017 the Ethno-Eco Festival SVIESTS has found a new partner – the Valmiermuiža  Culture Society, who  over the past years has developed their location in Valmiermuiža into a regional culture centre, that organises the summer solstice event  "Saulgriezis", and also was the venue for the Valmiera Theatre Festival. Throughout the year it invites different musical groups to concert evenings. This year the event "Saulgriezis" will host the  SVIESTS stage for Latvian ethno-music groups as well as international guests. Entrance to the festival is traditionally free, so that everyone who is interested can attend.